MY LIFE AFTER DEATH
THAT'S NOT VERY ROCK 'N' ROLL, IS IT?
Not too long ago I said to a friend, "I died once but I'm better now." He reminds me of the humor in this from time to time. Nobody knows why we do the things we do until we're willing to peel the onion to get to the core of all our bullshit. I found out a lot about myself when I was finally ready to do so–not all bad, by the way. One of the gifts I've been given in sobriety is the ability to see through other people's bullshit. (Nobody knows a bullshitter like another bullshitter–but I'm better now.)
I said to Lemmy from Motorhead recently that I should have been on one of those T-shirts alongside Sid Vicious and Johnny Thunders, and he said, "Nah, you're better than that, mate." I guess someone else should have written my biography but instead I'm still alive and kicking so I sit here, typing away. I was gonna write the end of my story here but I realized,
---
I AM NOT AT THE END OF YET HELL, I MIGHT ONLY BE HALFWAY THERE
---
There's plenty of time for grave markers and eulogies later…there I go, laughing at death again. I'm like a man on a bed of nails. I may grimace in pain but I somehow find it in me to laugh at the irony of where I lay my head, yet there is frustration. It comes not from the puncture wounds, but from the fact that I haven't made the Guinness Book of World Records for my life yet. Like I say, I'm only halfway there.
The first half was one enormous roller-coaster ride through hell. I can only imagine what the second half of my life is gonna be like. OK, enuff of me and my rambling. Let me bring you up to speed so far. I will try and give a sorta recap of the insanity and beauty that came after December 25, 1987:
---
Canceled the European tour.
Skipped rehab and went cold turkey.
Moved from the Heroin House in Van Nuys to a well-concealed home in a place called Hidden Hills.
Became reclusive for months at a time. I didn't even go to the grocery store, and lost complete contact with reality.
Wrote most of the Dr. Feelgood album.
Went to a psychiatrist and told him that life on drugs was better than this.
Got diagnosed as clinically depressed and chemically imbalanced (or should that be embalmed?).
Went on a new drug at the time, called Prozac.
For the first time, felt comfortable in my own skin without being high.
Hired a band therapist to improve communication with the guys in the band.
Met my future ex-wife.
Moved to Canada to record Dr. Feelgood with Bob Rock.
Stayed sober in Canada.
Finished the album and moved back to LA.
Went over to Tommy and Heather's house and did a couple of 8-balls. Doug Thaler came over and flushed the drugs.

Dr. Feelgood

went Number 1.
Went to Russia and I played my first show sober.
Fired Doc McGhee.
Sold out the Dr. Feelgood tour.
Got married in Hawaii to my now-ex.
Gunner Sixx, my first child, was born.
Received an American Music Award.
---
Storm Sixx, my second child, was born.
My marriage hit the rocks.
I hit the drugs.
BOB ROCK: I met Nikki when I produced Dr. Feelgood. He had just gotten sober for the first time. I've always known him as not normal but sober and straight, and in that state he's one of my best friends.
I've seen him slip twice. After we finished recording Dr. Feelgood, I was in a studio with Nikki and Tommy. It was a Sunday night in Hollywood, and he and Tommy decided to have a glass of wine with dinner. I was telling them, "Guys, you can't do that," but Nikki said, "Rockhead, one glass with dinner will be fine." Of course after the glass came another one, then suddenly the bottle was gone and Nikki was on the phone to his dealer. I asked him, "Nikki, what are you doing?" And he said, "Why wait? I know where I'm going tonight, so why wait?"
He went to the total extreme in ten minutes. Then the whole night just became pure pandemonium. Nikki and Tommy went to a club–there was probably only one club open on a Sunday night, but they found it. All the old dealers came out of the woodwork; there were girls, drugs, debauchery. We ended up back at the studio because I figured that was the best way to keep them out of jail. They ended up carving swastikas in the wall of A&M's studio. We had to blow out the first week of recording while Nikki went home to try to mend his marriage.
The second time, we were in Vancouver doing the Corabi album. We found out that Tommy's first wife, Candice, who was a stripper, was dancing at a club, so Nikki and Tommy decided to dress as Canadian lumberjacks, to not be recognized, and go to see her. They put on lumberjack shirts and false mustaches, and I fell down laughing, saying, "Guys, there's no way you look like anything but Nikki and Tommy!" They went anyway and the next thing I knew, Nikki called me from the club saying, "Come on down, Rockhead, we're doing shooters!" When I got there Nikki had gotten some blow as well. The next morning he woke up next to somebody he didn't know and the biggest pile of blow he'd seen outside of Scarface on a table. He flew home that morning and never went back to Vancouver. All I could do when he was in that state was try to make sure he didn't go to jail…or crazy.
Wrote some new songs for the

Decade of Decadence

compilation.
Went to Europe with AC/DC and Metallica.
Slipped on drugs.
Vince quit or was fired (depending on who you ask).
Mötley got a new singer–John Corabi.
Back to Canada to record the

Mötley Crüe

album.
Can't stay sober.
Marriage crashed on the rocks but I held on so I wasn't replicating the actions of my dad. Being unhappy seemed a better alternative to leaving my children fatherless–or so I thought.
The

Mötley Crüe

album was released and flopped.
The

Mötley Crüe

tour flopped.
My soon-to-be ex-wife got pregnant the one time in the year that we actually had sex.
Decker Sixx, my third child, was born.
Marriage was finally over. She sued me for $10 million, saying she "deserved" it.
The court said I could keep my mansion.
We agreed to joint custody and she lost the $10 million suit in court. 399
I met then–

Baywatch

star and

Playboy

playmate Donna D'Errico and fell head over heels in love in 1.2 dates.
Sold the mansion and moved into a small rental in Malibu with all my kids, Donna and her son Rhyan.
Married Donna on December 23, 1997.
John Corabi quit under pressure and Vince returned to Mötley Crüe.

Generation Swine

was released to moderate success.
Toured with Cheap Trick to mostly empty arenas.
Tommy recorded two tracks for our

Greatest Hits

album before he went to jail. While I was visiting him in jail, he told me he didn't know if he wants to be in Mötley Crüe anymore.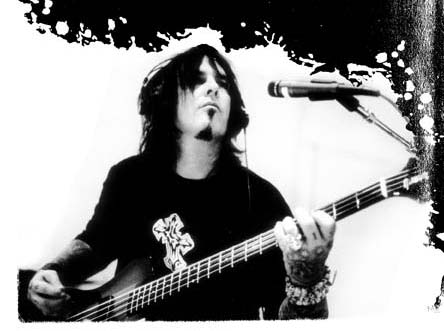 Toured the

Greatest Hits

album to almost sold-out houses. Tommy quit in the middle of the tour after a drunken Vince punched him. A security guard punched a fan and I called him a nigger from the stage. I had to go to court later for this stupid remark and received death threats. On the tour, I got arrested for assault. I called Elektra Records CEO Sylvia Rhone a cunt in

Spin

magazine and called her from my cell phone every night onstage having the audience tell her to fuck off…plus plenty of other insane shit.
We got Randy Castillo from Ozzy's band and played sheds with the Scorpions, selling 25,000 to 35,000 tickets every night.
Released a side project called 58. It didn't sell but rave reviews reignite my creativity.
Started a record company called Americoma. It doesn't work but it also reignited my creativity (and hatred for major labels).
We released all the Mötley Crüe albums on our own label and sold 500 percent more albums than on the major label.
Still sober and happily married.
Donna and I bought a fifty-acre ranch in the Malibu Hills.
My ex moved to Orange County with some guy and lost custody of the children.
Mick Mars would not return calls to help me write the next album so I enlisted James Michael. We wrote the

New Tattoo

album. (Later I find out Mick was lost in his own addiction.)
JAMES MICHAEL: Nikki and I used to be signed to the same label, and we'd say hello when we met in the corridor. I released a solo album and he called me to say there were some amazing things on there and he'd like us to work together. We started writing and it worked amazingly well right away. We wrote two songs on the first day.
Nikki is a very creative and talented guy, and he thinks in a very dark and twisted way. Energy just pours out of him. He's always thinking, always creating. Nikki is one of the most inspiring songwriters and exceptional people I have ever met.
James and I wrote hits for Meat Loaf and Saliva.

New Tattoo

came out and the tour did pretty well until Randy Castillo got cancer.
NIKKI: Randy was too ill to tour. He used to call me his brother and another mother. I used to call him from the road and always check up on him. He wanted to be on the road so bad but he just wasn't strong enuff. Everybody was worried the touring would wear him down and he needed all the strength he could get to fight this horrible disease. When he passed away and we went to the funeral I put my skull ring in his casket. We both had the same ring but his was missing from his finger. Randy was one of the greatest rock 'n' roll drummers alive and now Heaven's house band is just that much better.
Continued tour with a female drummer.
Donna got pregnant with our first child.
Started doing prescription pills to deal with stress.
Resumed drinking.
Resumed cocaine use.
Had an affair with the drummer.
Mötley Crüe agreed to take a five-year break.
Frankie-Jean, my fourth child, was born.
Moved out of family home after Frankie was born. To this day it's hard to even think about what I did.
Started heading down the highway to hell. Again.
ALLEN KOVAC: Nikki was back on heroin when he walked out on his wife right after their daughter was born. As his manager, I told him he needed help, and if he didn't get it, I wouldn't work with him any longer. I made it clear I was willing to walk away unless he took responsibility–and that's what he did.
Having managed some great artists who have a keen sense of lyrics, melody and structure, I put Nikki right up there with the all-time greats. Barry Gibb, Debbie Harry, John Mellencamp and Luther Vandross all understood it also took passion and a great eye for image. Nikki has it all–the complete artist in every form of his art. He will be revered for his talent and his place in rock 'n' roll history. Moreover, he is a crown jewel of rock 'n' roll. He may never win a Grammy because the industry does not always judge on talent, but he deserves many.
Went to rehab and finally "found myself" in the desert in Tucson, Arizona. My life was at the lowest point it had ever been and I wanted to change it forever. Vowed that, no matter what, I will never use again.
Donna, through much work on my part, learned to forgive and I learned to be forgiven, and I moved back in to our family home.
Finally sober–really sober–but the wounds were slow to heal in our family.
Started a band called Brides of Destruction.
Recorded an album called

Here Come the Brides

to a lot of excitement but not a lot of sales.
It was time for the Crüe again.
Toured with the Brides, which confirmed the above.
Loving being sober…closer to Donna and the kids than ever before.
Put the Mötley Crüe train back on the tracks. It wasn't easy…but this band never has been. At the same time I sued Vans shoe company and got $1 million for using my image in their ads without my permission.
Mick got his hip replaced and was weaned off prescription drugs.
MICK MARS: Nikki is like a completely different person today. He has made a total turnaround and is more about the music and his children. Like I said, he and I have always had a love-hate relationship, but today he is a much more loving and caring person and has his shiznit together. Our relationship is a lot healthier. It's great to be able to talk openly about anything and everything.
Vince did a reality show, got a face-lift on TV and got in shape.
Tommy did a reality show called

Tommy Lee Goes to College

and a solo album.
Still clean, sober and emotionally and physically ready to take on the world.
Mötley Crüe recorded four new songs with Bob Rock. Released the

Red White and Crüe

album and it sold more than a million copies.
Decided to risk it all and go on tour without promoters or support acts. Sold out the first leg of the tour.
Took the monster around the world and found out we had a new audience so we enlisted young bands Sum 41, the Exies and Silvertide for our summer tour.
RICK NIELSEN: I saw Mötley Crüe recently and rather than just being chaotic, as it used to be, it was the tightest I've ever seen them. I'd always told Nikki that as a bassist he was like Gene Simmons–it sounded better when he wasn't playing. But that's not true anymore.
Nikki has taken on a lot more responsibility now and he puts more energy into positivity rather than into positively tearing himself to bits. He's still crazy, but that is never going to change. I think he might have finally figured out that lawyers don't know it all, wives don't know it all, kids don't know it all–and guess what? Not even Nikki Sixx knows it all either!
Donna, myself and our friend Paul Brown (who designed this book) went to Cambodia and Thailand to do photography. What we found was heartbreaking.
Started the Running Wild in the Night charity with Covenant House to help runaway kids nationwide. Those kids–like the one writing this book–could do so much in life. They just need a second chance.
Mötley Crüe released first live DVD with all four of us.
Released a live album not using the industry's standard formula.
Not to sound all warm and fuzzy, but at this point in my life, I was so happy every morning when I woke up that I was pissing smiley faces. I could go on and on and on…but I think you get the point. Let's face it, I can't believe some of this myself. Oh hell, let me brag, it's my fucking book after all.
TOM ZUTAUT: Nikki lives and breathes for creativity. He has a great visual eye and now that he is into photography he creates some amazing visual images through his camera lens. If he set his mind to it, he could help many a new rock band develop and write better songs–maybe he will produce this generation's Appetite for Destruction. And I'm proud of the fact that he is a good father to his kids and has given them the childhood he never had.
VINCE NEIL: Nikki and I are closer now than we have ever been. From being a complete fuck-up he is now totally rational and the stuff he says always makes sense. He will advise me on how to handle things, or how to stay on an even keel like he's our band counselor. You know what? He could get a job as a counselor now, and that's pretty scary. He's still a control freak, but he's even working at that. Nowadays Nikki and I are real close friends, and I never thought I would say that.
I recently got off a world tour with Mötley Crüe, nearly all sold-out. Now the band members come to me with their problems, their good news and their dreams, and they tell me they love me. I flew from Australia on my birthday and they all sang "Happy Birthday" to me and gave me the usual ribbing about getting old. I caught my plane and checked my messages on a stopover in Hong Kong. They had each called me separately and wished me a happy birthday again. Wow–from guys I used to be a dictator and a downright dirty bastard to. Amazing. Then after twenty-two hours in the air I arrived home to handmade birthday cards from my kids. Amazing again…
TOMMY LEE: I totally commend Nikki for how he is today. He's great to deal with now that he can actually go out sober with people and whoop it up and have a good time and not be all freaked out. We still hang out a lot.
On a personal level he has gotten great at thinking things through. People with addictive personalities make really quick decisions and don't think them through, be they musical or business or whatever. Nikki and I were always real spontaneous gut guys who would just go with it, but now he gets all the information so he can make the right decision.
We're as close as ever but Nikki is a dark, funny individual who has realized that he has got one very dark street in his fucking head that isn't lit up by too many streetlights. You don't want to throw heroin and cocaine in there as well, dude! The point is that Sixx is already a sick fuck and always will be. He doesn't need that fucking stuff.
My life after death obviously has not been without bumps and I don't think it's supposed to be. When I returned from tour Donna filed for divorce, and I'm able to stay clean even in this disastrous situation. To move on with my life, separately from the girl I thought I'd be with for the rest of my life, was the hardest thing I've had to deal with in many years.
As I write this, I'm sitting in a hotel room in India, missing what we had. I'm single and I don't wanna be but sometimes we don't get what we want, we get what we're supposed to have. I don't know what's in store for me, but I'm sure somehow it will be a higher path. Listening to the monkeys and birds outside my hotel window all night long, it's the hardest thing in the world not to pick up the phone and say, "Let's give it one more try." But I am supposed to be alone at this time in my life, and to be at one with my loneliness. It hurts deep inside.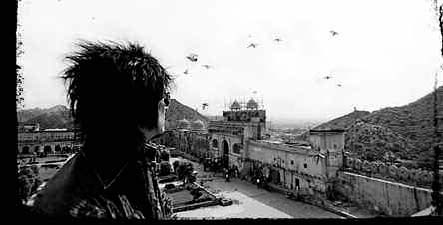 I have to be honest, this has been painful, but I have to be strong for the kids. You know, for a man who has just bared his soul in this book, it might seem ironic that I'd rather keep this mostly private, but I feel it's the right thing to do…again, for the kids. This curve in the road is not unlike drugs. Some things take a while to get out of your system.
What I've learned in this life so far is to let the little things go as much as possible and try to swerve to miss the big things. Life is like a long ride to nowhere in particular. We're bound to get a flat tire somewhere along the journey and it's never a good time for it to happen…in fact, it's usually pouring rain or a blizzard when you feel the car jolt from the tire that just blew out underneath you and ripped away at your safety and support.
But we don't have a choice really. We have to get out, fix the flat, get back in the car and head back out on the highway of life.
There are a few sayings I used to loathe that I now cherish:
---
1. You gotta give it away to keep what you got.

2. Let go and let God.
---
What the hell does this gibberish mean, anyway? Let me explain:
1. To keep my happiness I've got to give away as much as I can. It works. Amazing. A guy who mostly consumed, took and would go out of his way to bust people's balls using this as a mantra. Amazing.
2. I never thought there was a God (well, maybe I thought I was him), but I know now there is a power greater than myself and that has been a huge part of my sobriety. So I let shit go, and let the man upstairs deal with it. A guy who was a complete control freak letting go as a way of life…amazing…
EVANGELIST DENISE MATTHEWS: I hear Nikki is now sober and seeking. That is beautiful. Praise God!
Addiction was my downfall and yet it's been the very thing that has given me a spiritual connection and awareness that I never thought existed. Quitting drugs and alcohol was the hardest thing I've ever done and has given me the most satisfaction. I'm actually glad I'm an addict, 'cause through recovery I have the ability to give back.
I feel like I've led two lives (maybe more) and again I could go on and on…but I think that really is another book, another time. Right now I have a full tank of gas and a deep desire to know what's around the next corner.
Oh yeah…
You know, it's pretty easy reading this book to see why I was angry and confused for all those years. I lived my life being told different stories: some true, some lies, some I still don't know which is which. Children are born innocent. At birth we are very much like a new hard drive–no viruses, no bad information, no crap that's been downloaded into it yet. It's what we feed into that hard drive, or in my case my "head drive," that starts the corruption of files.

It got so convoluted, polluted and distorted that I ran with the only info I was given. I turned it into my armor, my defense mechanism, my weapon of self-destruction. I did have a fucked-up childhood and I was a troubled teen–these are facts. How I got there is a story told by many voices, but it's not my job to blame anymore. I need to accept the path I was given and turn lemons into lemonade.
I know one thing–a lot of people were hurt besides myself due to the fact that my family is full of lies and secrets.
I have forgiven my mother, because she did have a part in this. Maybe not the same info I was given, maybe some of her story is convoluted too. It doesn't matter anymore. Family comes first, and I love her–she's my mom. She really did do the best she could with the cards that she was dealt in her life too. She's a nice lady, a very creative lady, and loves me very much. I don't want her to live out the rest of her life feeling guilty. I think, unfortunately for her, I tortured her long enuff. I love you, Mom.
DEANA RICHARDS: Nikki has said a few times that he wants us to have a better relationship, and I want it more than anything in the world. There's not a day gone by when I haven't hurt and prayed for Nikki. We were separated for all those years and it wasn't my choice, but I never got the opportunity to explain that to him. He is my son. I love him.
My dad? Well, I couldn't make peace to his face, so Donna found out where he was buried and took me there in 1999. At first I was gonna piss on his grave, but I decided it was time to let it all go. I had been carrying a vendetta since I was a young kid that was killing me, and to carry it any further (especially since he was dead) was just two steps back. It was finally time to step forward and let go of the anger and pain. Dad, all I have to say is, you missed out on one hell of a son.
My grandfather and grandmother? Well, Nona loved me, I know that for sure, and that feels good. I think right about now she's breathing a sigh of relief and I'm sure when we hook up again I'm gonna get a good talking-to…ha ha…
Tom has been there for me thru thick and thin. He raised me and did the best he could, and you know what? It wasn't even his job. He took on my father's role and for that he deserves the Medal of Honor, 'cause it was a fucking war zone.
ALMOST LAST. BUT DEFINITELY NOT LEAST
What is my part in all this?
Well, my part is somewhat simple (if anything about me can be said to be simple).
1. I injected everything I could get my fucking hands on, and then some (and then some more). We really don't need to go over the list again…besides, we're running out of paper and quickly outta time here.
2. I was a drug addict, alcoholic, depressed control freak and egomaniac.
3. To be honest with myself, I was really just running, running away from the shit 'cause I couldn't take the smell. Whether I was chicken shit or it was chicken salad it fucking reeked and I just didn't deal with it…so I let it deal with me.
We're at the end and at the same time the beginning of this misadventure. Why I had to go down a dead-end street at 200 mph screaming for vengeance and embracing death is something I'm coming to terms with every day in my life after death. But like they say, life's a journey, not a destination.
Part of me (Nikki? or Sikki?) thinks this was all part of a master plan to expose the raw nerve endings of dysfunction so I could heal. But alcoholics always think everything's about them, so chances are this is just another character defect I have to work on. I always said, "Anything worth doing is worth overdoing"…well, actually I still say it, and live it too. But now I'm gonna be an overachiever with a different, healthier agenda.
DEFINITELY LAST BUT STILL NOT LERST
Someone asked me why I was writing this book and I said, "Maybe one person will read it and it will help them." They said, "That's not very rock 'n' roll, is it?" I said, "Fuck off" and smirked, because I know it's the most rock 'n' roll thing about me–doing what I wanna do in life.
I guess Lemmy was right–I am better than that.